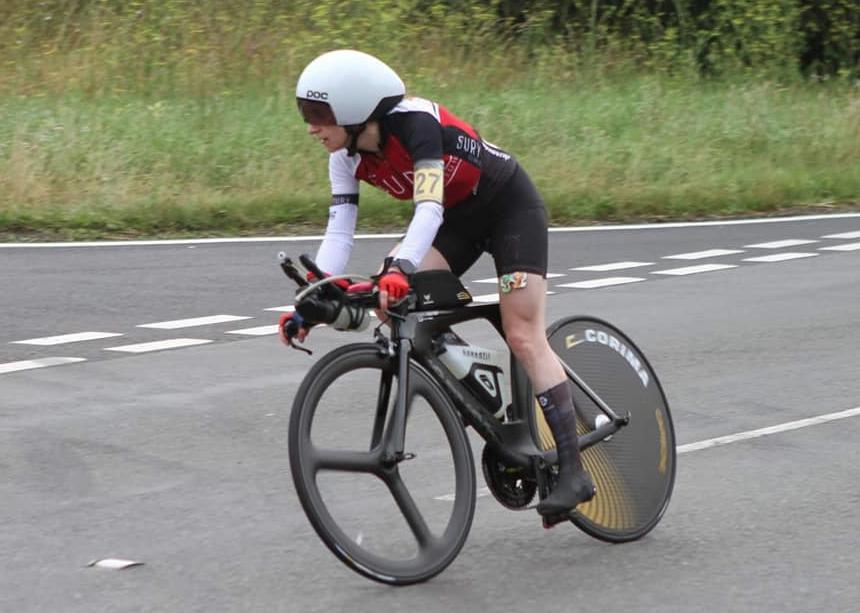 Joanna Cebrat
Chasing the Clarion National record:
Since I rode my first 12h TT in 2019 I got a dangerous bug of liking the long distance TT events. A TT discipline of its own kind that not many people would even want to attempt, rightly so… it hurts… but also becomes addictive.
I got interested in the 12h after reading the Beryl Burton story that became an inspiration of trying to beat a National Clarion ladies record which until August this year belonged to the Clarion's own legend Christine Roberts who is a famous 90's time trialist regularly winning national events and who held the 24h TT National record for over 15 years. She still holds a few records including London to Edinburgh to my best knowledge.
Having mentioned it to Peter Roscoe he instantly liked the idea and has been a great support during the journey. The target was simple but not easy – ride over 257 miles in 12h. The first attempt in 2019 at he RTTC nationals, was to be a failure simply because it was my first time. Many mistakes were made and lessons learnt. I covered 232 miles and finished 7th which I classed as a success for an unsupported newbie in a national event.
I soon realised that in order to do better I needed to train harder but also have on road support. In 2020 I recruited Mark and Ken as supporters and I had a plan in mind. The RTTC nationals were on local roads of Cheshire and Shropshire.
All plans however failed as the night before the organiser announced a change of course due to roadworks. We ended up doing a 12h SPOCO event in bad weather.
The Clarion record escaped me again but I finished in a RTTC Bronze medal position and broke the National Clarion Women's Veteran (40+) record. 236 hilly miles… I suppose the reason I placed high was because it was hilly and as a light weight "northerner" had a bit of an advantage over the "southerners"… Lol!
2021 has been a bit of a breakthrough year for me simply because I started training to real power. This annoying gadget that doesn't tell you what you would like to hear is actually pretty useful for time trials. We have a love hate relationship but it's mostly helpful.
The training since the beginning of May was mostly endurance race orientated and I waved goodbye to the good short distance power output I was producing at the beginning of the season. It was pretty clear that I can only focus on one thing with the time available as I work full time and often more! My job is absorbing and pretty stressful.
Long distance was my obvious choice as I love it but I can only spare 8-10h a week for training so I just trusted coach Joe that we will get the best result we can. I had a bit of a health issue that put me a bit behind the program involving surgery under general anaesthetic that messed me up for weeks. A glute muscle injury also made me give up the 24h TT only 2 weeks before the 12 as well as a few other events so not the ideal lead up.
Mark and I traveled to Norfolk on the evening of Friday 31st July, to have a Saturday for all the preps. We also had a good look at the finishing 10 mile circuit which was changed pretty much last minute due to roadworks. It was obvious that it was slowish so I knew I had to make up the miles during the first 9h on the two circuits of the A11.
The tasks were clear – Me, ride as hard as I can for 12h. Mark, Provide the full time support!
It was really nice to see Chris Shaw from Fenland Clarion on the start line for a quick Boots & Spurs Clarion greeting.
I set off at 6:27am and started fast, averaging 37.5 kph (23.3mph) for the first 9 hours. My aim was for 2 stops, with a maximum 2 minutes per stop, but the reality was that I was faffing for 5 min per stop. I carried too much food and liquid on me whereas the competition was better prepared – the fastest riders stopped for a minute (overall) at the most and kept taking bottles & fuel on the go.
I suspect that the ladies who only stopped for a minute must have had 'rest breaks' in their speedsuits as there is no way to do it the usual way within the 1min timescale……another step up the in art of riding 12h.
Team crews were tracking the splits of their riders and immediate competition, to tell their riders where they were placed, something I have not seen before. It was pretty lucky that Mark randomly parked in front of a team van on the final circuit and quickly realised I was in third spot, but very close to 2nd thanks to their notice boards with split speeds.
I had some issues with fuelling, my usual tactics failed on the day when my body decided to refuse any solids. I rode on gels and energy drinks which is not ideal for a 12h TT.
The weather was mixed with quite a lot of rain on the first two circuits and a noticeable cross wind which is worse for the light riders, especially at the highest points of the A11. Traffic was calm but many drivers sadly acted very aggressively, something we notice everywhere post Covid lockdown.
Nine hours into the race I had a slump and at this point the woman race lead overtook me looking pretty strong and carrying absolutely nothing but a bottle on her. The final battle on the last circuit was a lot slower but I knew that the girl in 2nd started struggling and I still had some more matches to burn, although not many!
After Mark's last update, shouting at me to push for the last hour, I knew I already had the Clarion record in my back pocket but I also smelt the Silver so I gave it all I had left and could barely walk when the 12 hours was up somewhere on the A11!
Later I found out that I provisionally finished joint 2nd which I was extremely happy with, hoping that the final results will be updated and that they would be able to separate us giving me the Silver knowing my average speed was higher on that final circuit, and indeed it all went to plan.
When finally the revised, final results were posted on the organiser's Facebook group…it was officially Silver!
Despite being extremely happy with the result, which I was aiming for, I keep analysing the tactics and logistics and beat myself up over those long stops. How far could I have gone if I only faffed less and picked up bottles on the go? I rode almost 30 miles further than last year, how much further can I go next year and will I be prepared to wear a skinsuit and relieve myself while still riding to match Beryl's distance one day or even travel a bit further than Beryl?
I am sure I will give coach Joseph Cadwallader a good headache as well
The game is on…
Stats
Time 12h,
Distance traveled 264.025 miles (425km)
Average speed 22.5mph (36 kph)
10 min of re-fuel and comfort breaks
Supported by Mark
Average power – gradually descending, HR tells its own story
Main target: Overall women's National Clarion record (257miles) – finally broke it!
Result: 2nd lady (RTTC silver) – exceeded own expectations
https://strava.app.link/Tb86CPRRDib
Thanks
Special thanks to Mark Jones for a fantastic 12h race support and spying on live splits. You gave me the final push to take the silver!
Joe from 360 cycling for manipulating my training to claim the Clarion record. We did it mate!
Peter Roscoe for sowing the seed and encouraging me to pin the number in the first place and being a Number One supporter for the Clarion record attempt
Ken Woodward for being a pre race mechanic and being a great supporter all year round
Andy Rivett for sharing his long distance knowledge and tips on training for long distance on time budget
Bury Clarion CC followers for ongoing encouragement and support and all female cyclists that became my inspiration in the long distance TT journey, Beryl Burton, Christine Roberts, Jasmijn Muller , Alice Lethbridge and many more.