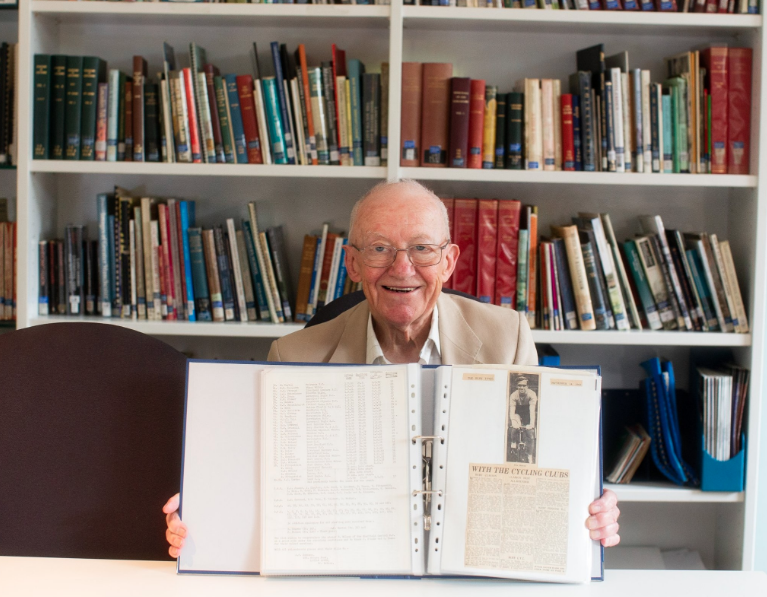 Peter Roscoe:
That Bury Clarion is a very special club there can be no doubt.
Time changes all things though and for some we have changed so much that there is only the nostalgia of the wonderful times of yesteryear but we who experienced them look back with infinite pleasure on……..
Sunday runs in all weathers and all seasons, enjoying the visual delights presented not only in Lancashire but also in our neighbouring counties of Cheshire, Derbyshire, Yorkshire and on occasions, Cumbria and the Lakes on weekends away.
In the days gone by it was the cyclists and hikers who enjoyed weekends Youth Hostelling when some of us cooked for ourselves, Though by today's standards, the conditions were spartan, those days are looked back on with great pleasure. Weekends away at Ingleton for the Bonfire celebrations are remembered…. the annual Blackpool weekend when we forsook the YHA. The memories come flooding back – the Hobo runs when we dressed as tramps!
Who remembers Keith Holland's get up on one of these in the 1950's? – he turned up late for the run and before he caught us he was detained for questioning by the Manchester police asking where he had acquired such an expensive bicycle!
Throughout the 1950's and 1960' many of us attended the annual Easter Meets of the National Clarion (York, Harrogate, Malvern, Skegness and many other diverse places up and down the country). Shrewsbury in 1953 is well remembered. At that time many of us were hard up and the National Clarion provided for this by hiring a school for accommodation – we slept on the floor and used the school kitchen for catering.
Activities included a Saturday night dance, a Sunday morning time trial and a Sunday evening prize presentation. Harry Aspden was 42 at that time and we were amazed that such an 'elderly' person should do a 1-6 for a 25. Geoff Morris, East Midlands Clarion C & AC won with a 1.0. We were in awe of this ride and the smart turn out of the team at prize presentation in their blue blazers with a badge on the pocket and grey flannels.
On to the 1960's, who remembers Frank Jefferson returning late from a pub and finding himself locked out of Coniston Copper Mines Youth Hostel? Peter Roscoe opened a window for him to get in. The warden heard the noise and came prowling round the dormitory with his torch as it was lights off time. Frank had just managed to get undressed except for one shoe.
Shining his torch on Frank he said 'what are you doing lying on your bed naked?' To this Frank… as he would, asserted that "he did not believe it was against Youth Hostel regulations to lie naked on a youth hostel bed'". He got away with it!
Some will remember the all night runs, the paper chases, the map reading contests.
Then there were our social activities – annual reunions for many years at the Co-operative Ballroom, dances, and social and, potato pie suppers. All these activities sparked off a network of friendships that have stood the test of time – some of these for over 50 years now.
In our less successful years we had occasional walks in the countryside, as these were more convenient for those who were no longer cycling fit. Walks from Hardcastle Craggs, Rivington Barn, Sunnyhurst Woods and the Clarion Clubhouse at Roughlee were times when we enjoyed the company of friends from our successful past.
Friendships continue to be forged in Bury Clarion and long may they do so.